'Til Death (or Some Other Time) Do We Part: Intersection of Divorce and Estate Planning
Date:
Thursday, October 18, 2018
Location:
The Loft at The Hamilton Restaurant | 600 14th St NW, Washington, DC 20005
Speaker:
William I. Sanderson and Robert B. Wynne, McGuireWoods LLP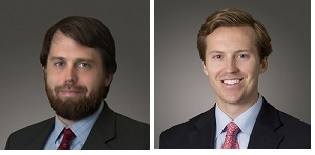 Program Description and Benefits:
Marriage is messy; divorce is messier. When high-net worth clients get divorced, the stakes are high and the traps for the unwary are myriad. This program will address the important issues that legal, tax, and financial advisors should analyze when their clients are contemplating, or slogging through, a divorce, including new and old income tax considerations, estate planning options, and qualified retirement account matters.
Speaker Biographies:
Bill Sanderson, Esq., is the co-chair of McGuireWoods' private wealth services group and a member of the firm's fiduciary advisory services practice. He represents both high-net worth individuals and families on a variety of sensitive and complex estate and business planning matters. His practice focuses on the areas of estate planning and estate and trust administration. A frequent speaker, Bill has also taught Federal Taxation Practice and Procedure at Virginia Commonwealth University School of Business.
Robert Wynne, Esq., is an associate in the Richmond office of McGuireWoods, where he is a member of the firm's employee benefits and executive compensation group. He advises clients on all matters arising under employee benefits and executive compensation laws, including issues relating to the design, administration, reporting and disclosure requirements for various retirement and welfare benefit plans and compensation arrangements. He represents and advises clients in interactions with the government, including the Internal Revenue Service, Department of Labor, and Pension Benefit Guaranty Corporation, and regularly assists in a variety of interdisciplinary practice areas that are affected by ERISA and the Internal Revenue Code.

Logistics:
Fees: $30 for active members; $35 for guests and emeritus members

Guests warmly welcome when accompanied by a member

Via Metro: Metro Center

Via Car: Parking in nearby garages. Colonial Parking, 607 14th Street; LAZ Parking PMI Garage, 675 15th Street; or 1325 G Street.