Webinar - Advising Clients During COVID-19: Perspectives from a Cross-Discipline of Advisors
Date:
Monday, May 18, 2020
Speaker:
Sarah Moore Johnson,JD, AEP®, Anne Meltzer, CPA/ABV, ASA, Brandon Ross, JD, Rebecca Rothey, CAP®, AEP®, , Brett Scola, CPA/PFS, CFP® , David Wexler, CLU®, ChFC®, AEP®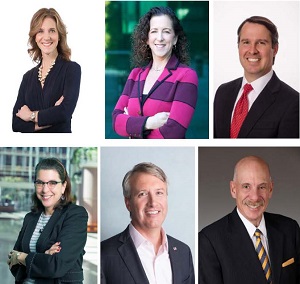 Program Description and Benefits:
Virtual client meetings. Unprecedented market swings. Historically low interest rates. Remote document signing. Deduction of up to 100% of AGI for charitable contributions. Chasing federal stimulus dollars. These are but a few of the many challenges and opportunities that have been brought about by the ongoing Covid-19 crisis. Learn how your colleagues in estate planning, insurance, accounting, business valuations and financial planning are advising clients during the COVID-19 era.
Speaker Biographies:
Sarah Moore Johnson, JD, AEP® is a founding partner of Birchstone Moore LLC, a boutique law firm focusing on estate planning and estate administration. She is a leader in the Washington, D.C. estate planning community, having chaired the Estate Planning Committee of the DC Bar Taxation Section, served on the Steering Committee of the DC Bar Estates, Trust and Probate Law Section, and as a Board Member and now President-Elect of the Washington, D.C. Estate Planning Council. Ms. Johnson has given numerous presentations at both the local and national level and has twice served on the faculty of the Heckerling Institute on Estate Planning. She is a fellow of the American College of Trust and Estate Counsel and was recognized by the American Bar Association Taxation Section as a Nolan Fellow in 2008 for her leadership as a young lawyer. Sarah is a graduate of Wake Forest University and the University of Georgia School of Law.
Anne Meltzer, CPA/ABV, ASA is a founding member and Managing Director of Tucker & Meltzer. She has been providing business valuation services since 2000 for purposes of business acquisition and divestiture, estate and gift tax planning, employee stock ownership plan (ESOP), corporate planning and advisory, and buy-sell agreements. In addition, she has issued numerous financial opinions in connection with ESOP transactions. Ms. Meltzer has valued companies across a wide range of industries including government contractors, information technology, engineering, breweries, advertising agencies, construction, manufacturing and distribution, insurance, financial advisory, and retail. Prior to Tucker & Meltzer, she worked at American Express Tax and Business Services and its predecessor firm, Wolpoff and Company. Ms. Meltzer holds a BS degree in Accounting from University of Maryland, College Park. She currently serves as President of the Baltimore Estate Planning Council.
Brandon Ross, JD, LLM (Tax) is a Wealth Advisor in the D.C. office of J.P. Morgan Private Bank. He draws upon his experience as a practicing trusts and estates attorney with several large law firms in Florida and D.C. to guide clients through the estate planning process with their other advisors and to achieve their estate planning goals. Mr. Ross is a past Fellow of RPTE and is a current member of The Dennis I. Belcher Young Leaders Program through the ACTEC Foundation. He has been honored by the Probate & Property magazine of RPTE several times for excellence in writing on trusts and estates. For RPTE, he serves as a Vice Chair of the Arts and Collectibles Committee, on the GST Committee and as an Assistant Editor for the RPTE eReport. As part of the Washington, D.C. Estate Planning Council, he serves as Co-Chair of the Membership Recruitment Committee.
Rebecca Rothey, CAP®, AEP® joined the Greater Washington Community Foundation in 2016 as Vice President of Development and Senior Philanthropic Advisor. Prior to coming to the Community Foundation, she held several charitable gift planning positions. It was her three years as director of major and planned giving at the Baltimore Community Foundation that sparked her passion for the role community foundations play in helping donors to give back to their communities and in educating donors' professional advisors. Rebecca received her undergraduate degree in philosophy from the Notre Dame of Maryland University and certification as a fundraising specialist from Goucher College. She became a Certified Fund Raising Executive (CFRE) in 2004 and received her designation as a Chartered Advisor in Philanthropy (CAP®) from The American College in 2014 and her AEP designation from the NAEPC in 2019.
Brett Scola, CPA/PFS, CFP® is a Partner with RSM US LLP. He is the Private Client Services Leader for the Washington Metro Offices and Family Office Services Leader Southeast Region. Mr. Scola has more than 25 years of experience working in the professional and financial services, advising families, family offices and privately-owned businesses. He has extensive experience in the financial (tax, accounting and investment) and family (succession, governance and education) aspects of wealth. Before joining RSM US LLP, Mr. Scola was an advisor at multi-family offices, wealth management firms and a global accounting firm. He holds an MS in taxation from American University's Kogod School of Business and a BBA in accounting from Loyola University Maryland.
David A. Wexler, CLU, ChFC, AEP® is a recognized technical authority on insurance planning for personal financial security, business succession plans, qualified and non-qualified retirement plans, estate and divorce planning. He is a founding Member of Greenberg, Wexler & Eig, LLC, a Member Firm of the M Financial Group, a firm that designs and manages insurance portfolios for high net worth, business owners and other affluent clients. Mr. Wexler is an Association of Advanced Life Underwriting (AALU) Ambassador, served as vice chair of Ambassador Program, chair of the AALU Wealth Transfer Committee and co-chair of the AALU Annual Meeting. He is a past president of the Washington, D.C. Estate Planning Council, served as chairman of the Estate Journal Club of the Suburban Hospital Foundation, a Trustee and Finance Chair of the Suburban Hospital Foundation, as a member of the M Financial Group Member Firm Relations Committee. Mr. Wexler has a BS in psychology from the University of Denver. He received his CLU and ChFC designations from The American College.
Logistics:
Fees: No cost for active members; $25 for guests and emeritus members

Connection and zoom registration details will be emailed to registrants on Friday, May 15

​

Webinar format only - attendees will be in listen mode only with an opportunity to ask questions at the end of the session