2022 Hariton Estate Planning Forum | Training Opportunity for Entry-Level Professionals
Date:
Thursday, September 29, 2022
Location:
BakerHostetler Schweitzer Conference Room, 12th floor, 1050 Connecticut Ave NW #1100, Washington, DC 20036
Speaker:
Edward J. Beckwith and Sarah Moore Johnson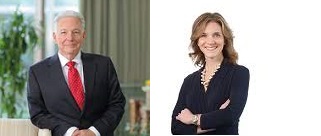 Program Description and Benefits:
As a service to our members and to develop potential new members, the Washington DC Estate Planning Council is hosting the 2022 Hariton Estate Planning Forum, an instructional and networking program for our student members and entry-level professionals of our members' organizations. Led by Ed Beckwith and Sarah Moore Johnson, the program will cover one discipline in our industry each week with guest instructors selected from among our newest members, followed by a networking social hour.
Goal: Each year's Hariton cohort will be a collegial networking and study group that will continue throughout the participants' careers, providing a peer group to consult with and rely on for advice and sponsorship as their careers progress.
Dean Biographies:
Edward J. Beckwith, Esq., LL.M. is nationally recognized for his skill and commitment as counsel to high-net-worth families and charities across the country. He has served as the national leader of BakerHostetler's tax-exempt organizations and charitable giving practice. Ed's experience includes the legal and administrative specialties required to establish and successfully guide the operations of charitable organizations. He advises families, family offices and their professionals with respect to the tax-efficient accumulation, management and distribution of personal wealth. His advice is often sought with respect to the governance and "best practices" of such organizations and the maintenance of their tax-exempt status, as well as the tax and practical aspects of contributions and other financial support programs. A significant aspect of Ed's practice involves the application of tax laws to family and business financial arrangements, including the preparation of related documents to conserve and transfer wealth, the administration of such arrangements, and the representation of clients before legislative, judicial and regulatory branches of government at all levels.
Ed has been an active member of the Washington, D.C. Estate Planning Council for over 40 years. For his entire professional career, Ed has lectured throughout the United States and has written extensively, including articles and speeches for the American Law Institute and the American College of Trust and Estate Counsel (ACTEC). He frequently chairs continuing education programs for private wealth professionals and has been an adjunct tax professor at the Georgetown University Law Center for 38 years, where he currently teaches and coordinates a graduate-level certificate program in Advanced Estate and Charitable Planning.
Sarah Moore Johnson, JD, AEP®, is a founding partner of Birchstone Moore LLC, a boutique law firm focusing on estate planning and estate administration for ultra-high net worth clients in DC, Maryland and Virginia. Sarah is a leader in the Washington, DC estate planning community, having chaired the Estate Planning Committee of the DC Bar Taxation Section, served on the Steering Committee of the DC Bar Estates, Trust and Probate Law Section, and as a past President of the Washington, D.C. Estate Planning Council. She also is an active Fellow of the American College of Trust and Estate Counsel (ACTEC) and has been ranked as a top wealth planning attorney by Chambers and Partners, Best Lawyers, and the Washingtonian magazine.
Sarah is a frequent and award-winning speaker on tax and estate planning topics, from the Heckerling Institute on Estate Planning and national meetings of ACTEC and the ABA Taxation and RPTE Sections, to local estate planning councils and regional symposiums across the country. She was recognized by the American Bar Association Taxation Section as a Nolan Fellow in 2008 for her leadership as a young lawyer. Sarah is a graduate of Wake Forest University and the University of Georgia School of Law. She serves on the Board of Trustees of the Greater Washington Community Foundation and uses her positions of influence to advocate for racial equity, diversity and inclusion in the estate planning industry to help close the racial wealth gap.
Agenda:
September 22 - Various Forms of Property Ownership and Common Ways to Transfer Wealth
September 29 - Basic Trust Concepts and Fiduciary Obligations
October 6 - The Estate Planning Team
October 13 - Planning with Life Insurance
October 20 - Review of Tax Concepts Central to Estate Planning
Logistics:
Fees: $100 (includes all five sessions) for entry-level professionals - please be sure to list your Member "host" when registering; $0 for Council Student Members

Each session will run for an hour beginning at 4:30 pm and will be followed by a networking happy hour at a local venue.

​
Related Document(s):