Our Clients with Assets Overseas: Are they reporting correctly to the IRS? | Tysons Corner | 8:00 - 9:30 am
Date:
Tuesday, May 16, 2017
Location:
Ernst & Young | 1775 Tysons Blvd, 18th Floor, McLean, VA 22102
Speaker:
Marianne Kayan | Ernst & Young LLP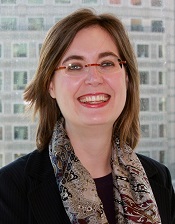 Program Description and Benefits:
We are continuing our well received series on becoming familiar with IRS compliance rules for our clients. We have had successful breakfasts on preparing gift tax returns and fiduciary income tax returns. Please attend and learn what is new with foreign informational reporting for your clients who have overseas assets or have received assets from overseas, including FACTA and CRS, foreign gifts, inheritances and trusts, and FBAR reporting. Breakfast will be provided.
Speaker Biography:
Marianne Kayan is the Americas Private Client Services Cross Border Initiative Leader, and is a Senior Manager in the National Tax Department of Ernst & Young LLP ("EY") in Washington, D.C. She provides insight to high net worth individual clients and their affiliated entities on cross-border US income, estate and gift taxation. Ms. Kayan regularly provides advisory on: pre-immigration planning to the US, residency determination for both income and estate tax purposes, expatriation, tax treaty application, entity classification, both domestic and foreign trust taxation and compliance, charitable giving, federal estate/gift tax returns and controversies, US beneficiaries of foreign estates and trusts, and US estate and gift tax planning in a cross-border context.
Ms. Kayan is an active member of the American Bar Association Section of Real Property, Trust, and Estate Law ("ABA RPTE"). She is currently the co-chair of the ABA RPTE International Tax Planning Committee. In 2016, she began co-authoring a quarterly international update for Leimberg's Estate Planning Newsletter. For EY she annually co-authors the US Chapter of the International Estate and Inheritance Guide and the income tax publication The EY Tax Guide. Before joining EY, she worked in the DC area for seven years as a tax attorney focusing on estates and trusts.
Logistics:
Cost: $30 for members | $35 for guests and emeritus members

Guests warmly welcome when accompanied by a member

Buffet breakfast will be served

Via Metro: Silver Line, Tysons Corner Station

Via Car: Paid visitor parking is available in the building.