Decanting Comes of Age | City Club | 5 - 8 pm
Date:
Tuesday, February 13, 2018
Location:
City Club of Washington | 555 13th Street, NW, Concourse Level, Washington, DC 20004
Speaker:
Farhad Aghdami and Daniel Durst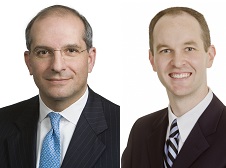 Thank you to our meeting sponsors
Program Description and Benefits:
TRUSTS: Decanting is the act of a Trustee to exercise power to distribute trust income or principal for the benefit of a beneficiary by distributing the assets to a new trust.
Every trust and estate professional needs to know how, and when, to use this planning tool to deal with administrative changes to irrevocable trusts, changes to beneficial interests, and changes to minimize tax.
WINE: Just like decanting a trust from one to another can lead to a better result, so can decanting wine. Simply put, it means transferring (decanting) the contents of a wine from one container (bottle) into another (decanter). The primary reason to decant is to aerate the wine. Many young wines can be tight or closed on the nose or palate. As the wine is slowly poured from the bottle to the decanter it takes in oxygen, which helps open up the aromas and flavors. Highly tannic and full-bodied wines benefit most from this – wines such as Cabernet Sauvignon, Cabernet blends, Syrah, and Syrah blends. A secondary reason to decant older wines is to separate the wine from the sediment, which not only looks better in the glass, but also makes the wine taste less astringent. Either way, decanting makes the original just a bit better. Find out how much better when we decant on February 13th.
Speakers Biographies:
Farhad Aghdami is the Managing Partner of the Richmond office of Williams Mullen. He focuses his practice on wealth transfer planning and preservation, business succession planning and tax planning. He is a fellow in ACTEC and was named the 2016 Trusts and Estates "Lawyer of the Year" by Best Lawyers. He chaired the ABA Tax Section's Task Force that submitted comments on the regulations promulgated in response Notice 2011-101 on trust decanting.
Dan Durst advises clients on a wide range of estate planning, trust and estate administration, business succession, and tax matters. He regularly assists high net worth individuals, business owners and professionals with their estate planning needs.

Scott Greenberg of Greenberg, Wexler & Eig will lead us through the wine decanting portion of our program. Scott is a principal at GWE where he specializes in the use of life insurance for wealth transfer strategies and succession plans for closely held businesses. An avid wine collector, Scott transformed his passion for wine into a weekly column for the Examiner newspaper chain in 2004. Today, he can be heard every Friday evening as the host of WTOP radio's Wine of the Week.
Logistics:
Open bar and heavy hors d'oeuvres will follow the program

Fees: No cost for active members; $65 for guests and emeritus members

Guests warmly welcome when accompanied by a member

Via Metro: Metro Center stop

Via Car: Parking is available in the building. Enter Columbia Square garage from 12

th

Street between E and F Streets. Discounted parking after 5 p.m.

No-Show Policy: Members who reserve, but do not attend, will be billed $65.
Related Document(s):