Prospective Member's Networking Social and Wine Tasting
Date:
Wednesday, February 9, 2022
Speaker:
Scott Greenberg, The Vine Guy
Registered for this event? Login now to view additional event details.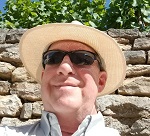 Thank you to our event sponsor

Want to learn how to taste wine like a professional – or at least a semi-professional, or maybe just an enthusiastic amateur? Well, now's your chance.
Join the Council as we host a virtual wine tasting for prospective new members led by our very own Scott Greenberg. In addition to his duties as president of the DC Estate Planning Council, Scott is a professional wine journalist and wine judge. His podcast, The Vine Guy, has more than 60,000 subscribers.
The wine order is closed. You may still register to join in the conversation.
Register by January 31 and you'll receive two bottles of wine delivered to your door to open and enjoy during the event. Scott will briefly opine on each wine while giving everyone a chance to mix and mingle in breakout rooms. This will be a great way to meet new prospective members while catching up with current colleagues. And maybe learn a bit about evaluating wine beyond "taste good to me!"
The event is free to current members if they host a prospective member sign up for the event. All members are welcomed – and encouraged - to participate. A registration fee applies.
Logistics:
No cost to participate for prospective members or member hosts. Members not hosting, but wanting to attend may do so for a fee of $40.

Please make sure to register for your guest as a second attendee, or have your guest register themselves. Just listing their name will not allow for their wine delivery.

Members should plan to host and introduce a prospective member during the evening. You can register for the guest, or they can register on their own.

Zoom link will be sent prior to the event.
Enjoy a fun evening and introduce a prospective member to the benefits of WDCEPC.
This event counts toward the two-meeting requirement for new members. The next nomination package deadline is March 1.