Membership Meeting | Goldenzweig Memorial Lecture: Global Risk Management and the Effects on Perpetuating Wealth
Date:
Monday, October 24, 2022
Location:
Pinstripes DC | 1064 Wisconsin Ave NW, Washington, DC 20007
Speaker:
Andres Franzetti, Risk Cooperative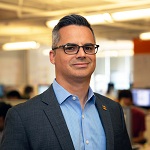 Program Description and Benefits:
Join us for a discussion focusing on an overview of the rapidly evolving risk landscape and how it relates to the changing dynamics of estate planning, actively managing risk and perpetuating wealth in a global environment being shaped by political risk, climate change, pandemics and economic uncertainty. This session will focus on both traditional and emerging risk categories that individuals must contemplate for estate planning and building resiliency. Additionally we will cover new approaches to managing risk, leveraging insurance and risk transfer solutions to enable more dynamic and agile risk mitigation for clients.
The William M. Goldenzweig Memorial Lecture was established in 1980 in memory of William M. Goldenzweig, CLU, who died in a plane crash during his presidency of the Council in 1979. The annual lecture focuses on an estate planning topic of particular relevance to the life insurance industry.

Speaker Biography:
Andres Franzetti is the Chief Executive Officer and co-founder of Risk Cooperative, a specialized risk advisory and insurance brokerage firm headquartered in Washington D.C. As a dual-licensed insurance broker and Certified Risk Manager (CRM), Andres has spent his career helping multinational organizations address complex risks, develop global risk mitigation strategies, and build operational resiliency. Regarded as an industry innovator, Andres has worked closely with Fortune 500 companies and global aid and development organizations to design unique risk transfer and risk management solutions. Andres has experience across the full risk spectrum ranging from cyber to supply chain management and cross border capital deployment. He is a recognized thought leader, frequent contributor, and speaker on risk issues across national publications and broadcast programs. In addition to his work at Risk Cooperative, Andres also serves as an adjunct fellow for the American Security Project, a think-tank founded by former U.S. Secretary of State John Kerry and U.S. Secretary of Defense Chuck Hagel, and serves as a National Small Business Association (NSBA) Leadership Council Member.
Logistics:
Fees: No cost for active members; $65 for guests and emeritus members. No cost for student members.

Guests warmly welcome when accompanied by a member.

Open bar and heavy hors d'oeuvres will follow the program, along with bocce ball, bowling and corn hole.

Parking is available in the garage in the building.

No-Show Policy: Members who reserve, but do not attend, will be billed $65.