Winter Membership Meeting | The Whiteness of Wealth: Race, Tax Policy and Inequality
Date:
Thursday, February 16, 2023
Location:
PNC Private Bank | 800 17th Street, NW, Washington, DC
Speaker:
Dorothy Brown, Georgetown University Law Center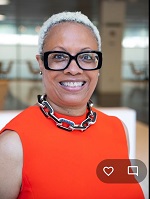 Thank you to our meeting sponsor


Program Description and Benefits:
Whether we are talking about the tax break for capital gains or gifts and inheritances, tax policy seeks to enable those with the most resources to pay the least. Join the Council for its annual Diversity, Equity and Inclusion-focused presentation that will look at how we got here and what we can do about it.
The first 50 member registrants will receive a copy of Ms. Brown's book, The Whiteness of Wealth, courtesy of Birchstone Moore.
Speaker Biography:
Dorothy A. Brown is the Martin D. Ginsburg Chair in Taxation at Georgetown University Law Center and author of The Whiteness of Wealth: How The Tax System Impoverishes Black Americans- And How We Can Fix It (Crown 2021). A nationally recognized scholar in the areas of race, class, and tax policy she is the author of numerous law review articles, book chapters, and essays on the topic. A former investment banker and practicing attorney in the areas of taxation and municipal securities, she began her career in law teaching in 1991. She has appeared on ABC's The View, MSNBC's Morning Joe, New Yorker Radio Hour, NPR's Marketplace, and PBS News Hour. Her opinion pieces have been published in The New York Times, The Washington Post, and The Atlantic.
Logistics:
Cost: $0 for members | $65 for guests and emeritus members | No cost for student members.

Guests warmly welcome when accompanied by a member.

Networking reception featuring open bar and heavy hors d'oeuvres will follow the program

No-Show Policy: Members who reserve, but do not attend, will be billed $65.